Happy holidays! Enjoy a special discount price on Cygnus Award-Winning speculative fiction THE ARIADNE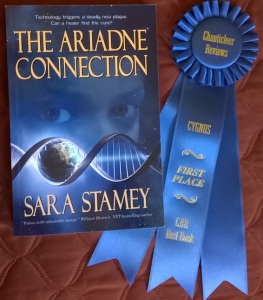 CONNECTION during December.
"A rocket-paced thrill ride that delivers complex, engaging characters in a laser-sharp plot. [It] takes the reader on a visual feast through the azure waters and rugged Mediterranean landscape of the Greek islands while tapping into the deep roots of mythological tradition."
–Chanticleer Reviews
Must be purchased at publisher's online bookstore, easily downloaded onto your favorite device. (Formats available for either Kindle or other devices.) Follow the link: http://bookviewcafe.com/bookstore/book/the-ariadne-connection/
And don't forget you will receive a free ebook copy of WILD CARD RUN if you sign up for occasional email updates.