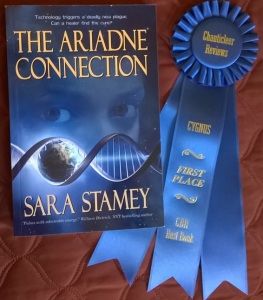 At the Chanticleer Authors Conference in April, my near-future thriller THE ARIADNE CONNECTION received its second Cygnus Award, this time for the science fiction category. Congratulations to all the shortlisted authors and the other winners of the 2016 contests.  We had a lovely time celebrating with champagne at the award banquet.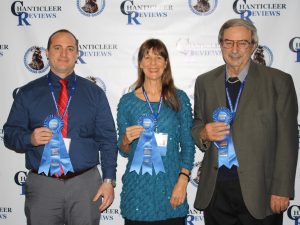 To extend the party, THE ARIADNE CONNECTION ebook is available at a special discount price of just 99 cents during the month of May at my publisher's site: http://bookviewcafe.com/bookstore/book/the-ariadne-connection/
Happy May Day!
*****
You will find The Rambling Writer's blog posts here on alternate Saturdays. Sara's newest novel from Book
View Cafe was recently released in print and ebook: The Ariadne Connection.  It's a near-future thriller set in the Greek islands. "Technology triggers a deadly new plague. Can a healer find the cure?"  The novel has received the Cygnus Award twice, once for Speculative Fiction and once for Science Fiction.