Award-winning novelist Sara Stamey's "Cybers Wild Card" science fiction novels with Berkley/Ace received praise from Publishers Weekly, SF Chronicle, and Fantasy Review, and made the Locus Best New Novelists list. Her Caribbean psychic suspense novel ISLANDS—"A stomping, vivid ride" (Statesman Review)—won the Chanticleer Paranormal Suspense Award and Hollywood Book Festival Genre Award. Her near-future Greek islands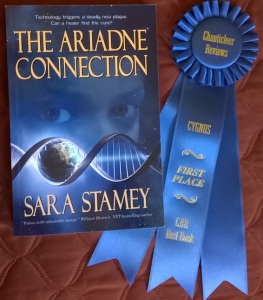 thriller THE ARIADNE CONNECTION won the Chanticleer Global Thriller Grand Prize, as well as Cygnus Awards for Speculative Fiction and Science Fiction. "A rocket-paced thrill ride that delivers complex, engaging characters in a laser-sharp plot."   (Chanticleer Reviews). She's now writing a sequel, THE ARIADNE DISCONNECT.
Sara's journeys include treasure hunting and teaching scuba in the Caribbean, backpacking worldwide, operating a nuclear reactor, and owning a farm in Southern Chile. Returning to her home town in the "far corner" of the Pacific Northwest, she taught creative writing at Western Washington University for several years. Now focused on her own writing, she shares her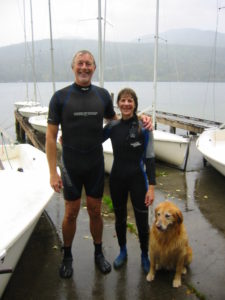 creekside land with wild creatures and her cats, dog, and paleontologist husband Thor Hansen.
A lifelong outdoors enthusiast and ardent supporter of environmental causes, Sara enjoys hiking and showshoeing in the nearby Cascades mountains, swimming and snorkeling, cycling, and gardening. She looks forward to an upcoming return trip to Greece and many more travels as research for her novels.
Sara with husband Thor, wind-surfing with their dear departed companion Worf.
The Seeds of The Ariadne Series Began in Greece
Sara went on a 4-month backpacking journey around Greece some years ago–here on the rugged south coast of Crete. The seed for her novel The Ariadne Connection was planted then. She's now in progress on the sequel, The Ariadne Disconnect.
Sara's Earlier Book Islands Also Began with Her Wandering Way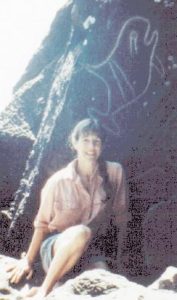 Sara wrote an early draft of Islands when she was living in the Caribbean, working as a scuba instructor and guide. Her main character Susan Dunne, a fish-out-of-water archeologist from the Pacific Northwest, drew a lot from her own culture shock, moving from a cool, laid-back clime to the hot, revved-up pace of a St. Thomas tourist island.
She originally wrote Islands as a stand-alone novel. Susan and other characters insist there is more to tell, so Sara has started a sequel set in Belize and Guatemala, where she has also spent time.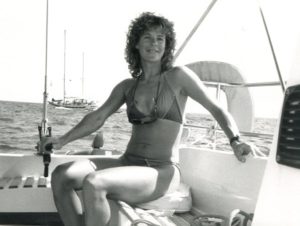 The Statesman Journal calls her ISLANDS:
"A superior mystery and suspense novel… a stomping, vivid ride." Her research for the novel, based on her experiences treasure-hunting and teaching scuba in the Virgin Islands, involved petroglyph treks in the Pacific Northwest and Caribbean.