NEWLY RELEASED IN MARCH 2015, from Book View Cafe publishing: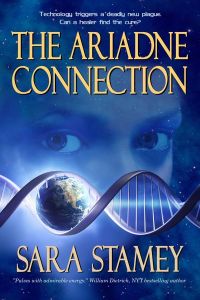 The Ariadne Connection, a  near-future thriller set in the Greek islands. Technology triggers a deadly new plague. Can a healer find the cure?
The Ariadne Connection has earned the CYGNUS Award, First in Category — now in the running for the Grand Prize. Stay tuned!
"Pulses with admirable energy."- William Dietrich, New York Times bestselling author
Order The Ariadne Connection from:
Book View Cafe (epub or Mobi ebook) $5.99
or Amazon (print) $17.95    or Amazon ebook  $5.99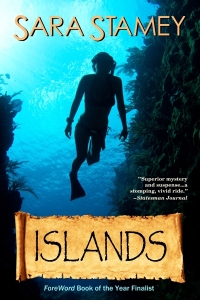 ISLANDS
by Sara Stamey
A romantic suspense/mystery novel set in the Caribbean, spiced with a psychic twist.
Fiction Finalist, ForeWord Book of the Year
New eBook edition from Book View Cafe, available in formats for both Kindle and epub devices, $4.99. Order: Book View Cafe, Islands
or from Amazon
or from GooglePlay: https://play.google.com/store/books/details/Sara_Stamey_ISLANDS?id=ZTK5BQAAQBAJ
"Will I pick up and read Sara Stamey's next novel? Better believe it!"     –Ed Bryant, Twilight Zone Magazine

Order an autographed trade paperback copy of Islands.
320 pgs., $10, free shipping in continental U.S.
"Welcome to Paradise," archeologist Susan Dunne hears on arrival at the Caribbean island to research petroglyphs and unravel the mystery of her brother's drowning. Was it murder? This sunny tourist mecca conceals shadowy secrets — violent native unrest, a sunken treasure ship guarded by legendary Jumbies, and a bloodthirsty cult. Can Susan resist her attraction to her number one suspect, unpredictable combat vet Vic Manden? The most disturbing secrets she must explore are the ones hidden in her disturbing psychic visions, clues that challenge her notions of truth and reality.
"A superior mystery and suspense novel with solid characters, some very spooky goings-on, and lots of wonderful writing… An intellectual thriller? Absolutely. But don't let that make you think there is anything even vaguely dull or pretentious about 'Islands.' It's a fast read, a stomping, vivid ride, the work of a woman who is passionate about lots of things."
» Dan Hays, Statesman Journal
"A highly palatable soup of a novel… She galvanizes considerable interest from the reader."
–Edward Bryant, Locus Magazine
"Intense and gripping… you'll be caught up in this one."
–Don D'Ammassa, Chronicle Magazine
"A passionate writer, Stamey has concocted a mystery here that is a page turner from intriguing beginning to end."
–Ara Taylor, Bellingham Herald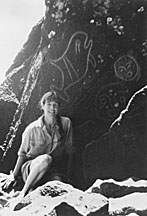 Sara Stamey – novelist, freelance editor, and creative writing instructor for Western Washington University – has returned to her Pacific Northwest roots after years of wanderlust. Her journeys have included teaching scuba-diving in the Caribbean and Honduran islands, trekking around Greece and South America, operating a nuclear reactor at Hanford, and owning a farm in southern Chile. Her Islands research included petroglyph treks in the Caribbean and Washington State.
Stamey's earlier novels with Berkley/Putnam Publishing of New York earned praise from Publishers Weekly, Locus Magazine, Twilight Zone, and others. Watch for new audiobook editions–with exciting new cover art!–coming soon, as well as ebook editions with Book View Cafe.