Here's the cover image for Islands, my new eBook revised edition from Book View Cafe. Romantic suspense with a psychic tinge, it's set in the Caribbean and features plenty of adventure. An archeologist investigating petroglyphs ends up diving for sunken treasure and investigating a cult murder.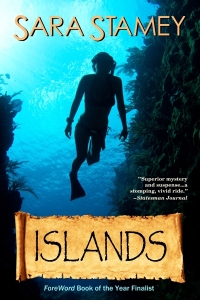 Dave Smeds of Book View Cafe worked closely with me to design the cover, and I'm very happy with it. This image might be too small to see, but he incorporated a nice review comment from Statesman Journal: "Superior mystery and suspense… a stomping, vivid ride."  The print version was a ForeWord Book of the Year finalist.
It will be available May 6  on www.bookviewcafe.com  — more details soon!