Award-winning author Sara Stamey's latest novel: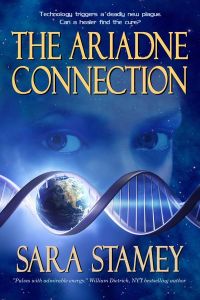 Winner of the Chanticleer Global Thriller Grand Prize; and Cygnus Awards for Speculative Fiction and for Science Fiction
The Mediterranean, tomorrow. A journey to the crossroads of science and myth:
Technology has triggered a deadly new plague. Can a healer find the cure?
"A rocket-paced thrill ride that delivers complex, engaging characters in a laser-sharp plot. [It] takes the reader on a visual feast through the azure waters and rugged Mediterranean landscape of the Greek islands while tapping into the deep roots of mythological tradition."
–Chanticleer Reviews
Buy The Ariadne Connection on Amazon
Sara's latest award, announced in April 2018: THE ARIADNE CONNECTION has won the Chanticleer Global Thriller Grand Prize!