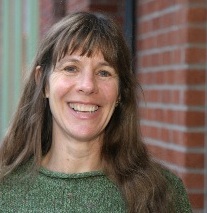 Sara's novels published by Berkley/Putnam of New York received praise from Publishers Weekly and a "Best New Novelists" listing from Locus. Her recent novel Islands was a Foreword Book of the Year finalist. A new ebook edition of Islands  was released in 2014 from Book View Cafe publishing, which will also release, in print & ebook, her new novel The Ariadne Connection in March 2015.
Sara's Islands research included petroglyph treks in the Caribbean and Washington State.
Senior Instructor of Creative Writing at Western Washington University, Sara also offers professional editing services as a "book doctor." She received her M.A. in English and Writing from WWU. Her diverse background also includes teaching scuba diving in the Caribbean, operating a nuclear reactor, and owning a farm in Southern Chile.
Read about and order Sara's novels.
Find out more about Sara's Creative/Editing Services.
Check out Sara's WWU Writing Courses, available online to the public.